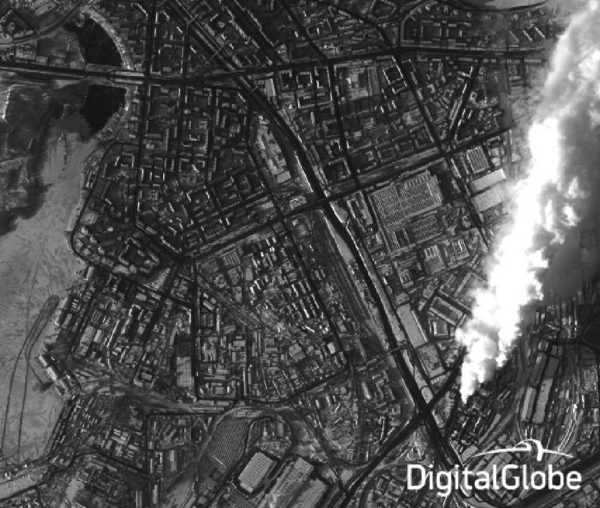 WorldView-1
Very high resolution (50cm) panchromatic imagery
Panchromatic imaging system
17.7 km swath at nadir, contiguous strip acquisition of up to 17.7 x 360 km in single pass
Demonstrated accuracy of <4.0m CE90
Product Description
WorldView-1
WorldView-1 is a commercial earth observation satellite owned by Maxar and was launched in September 2007.The WorldView-1 satellite offers a high-capacity, panchromatic imaging system which features 0.46 m resolution imagery.
Operating at an altitude of 496 kilometres, WorldView-1 satellite has an average revisit time of 1.7 days and is capable of collecting up to 750,000 square kilometres (290,000 square miles) per day of half-metre imagery. The satellite is also equipped with state-of-the-art geo-location capabilities and exhibits stunning agility with rapid targeting and efficient in-track stereo collection.
The WorldView-1 sensor boasts one of the largest archives of high-resolution imagery, and was the first 0.5 m resolution sensor on the commercial market. While only capturing panchromatic imagery, this sensor is a great option for historical views of areas, and has collected an extensive amount of stereo pair imagery that can be used for elevation model creation.
Provider
Maxar
Satellite/Constellation
WorldView-1
Resolution (Panchromatic)
0.5 m GSD at nadir
Geolocational Accuracy CE 90 (without ground control)
<4 m at CE 90
Swath
17.7 km at nadir
Spectral Bands
Panchromatic
Revisit Frequency
1.7 days at 1 m GSD or less

5.4 days at 20° off-nadir or less (0.55 m GSD) at 40°N Latitude