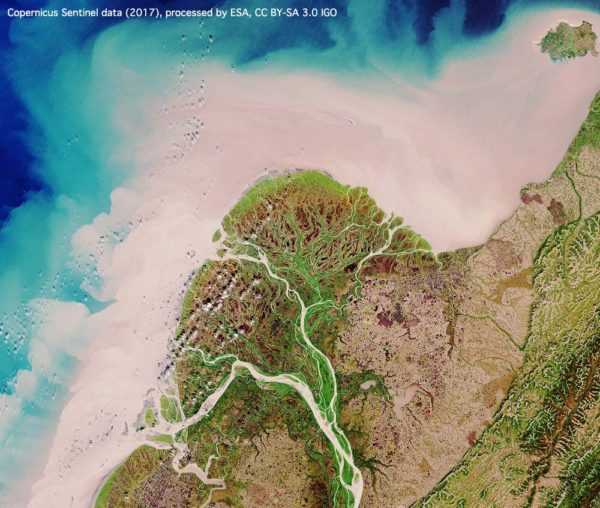 Sentinel-2A/2B
Data freely available under the European Space Agency's Copernicus Programme
13 band multispectral sensor
Multiple spatial resolutions depending on spectral band (10m, 20m and 60m)
5-day repeat cycle
Product Description
Sentinel-2A/2B
Sentinel-2A/2B is an Earth observation mission from the European Union Copernicus Programme that systematically acquires optical imagery at high spatial resolution over land and coastal waters. The mission is a constellation with two twin satellites. Copernicus is the new name of the European Observation Programme, previously known as Global Monitoring for Environment and Security (GMES).
The mission supports a broad range of services and applications such as agricultural monitoring, land cover classification, emergencies management or water quality.
Sentinel 2A/2B provide high resolution optical imagery and provide continuity for the current SPOT and Landsat missions. The four bands at 10 metre resolution ensure continuity with missions such as SPOT-5 or Landsat-8 and address user requirements, in particular, for basic land-cover classification. The six bands at 20 metre resolution satisfy requirements for enhanced land-cover classification and for the retrieval of geophysical parameters. Bands at 60 metre are dedicated mainly to atmospheric corrections and cirrus-cloud screening.
The Sentinel-2 mission provides a global coverage if the Earths land surface every 10 days with one satellite and 5 days with 2 satellites, making the imagery and data valuable in use in on-going studies.
The satellites are equipped with state-of-the-art Multispectral Imager (MSI) instrument, which offers high-resolution optical imagery.
The mission is dedicated to the full and systematic coverage of land surface including major islands globally with the objective to provide cloud free products typically every 15 to 30 days over Europe and Africa.
Sentinel-2A satellite image data will support:
Generic land cover, land use and change detection maps
Maps of geophysical variables for leaf area index, leaf chlorophyll content, leaf water content
The span of 13 spectral bands, from the visible and the near-infrared to the shortwave infrared at different spatial resolutions ranging from 10 to 60 metres on the ground, takes global land monitoring to an unprecedented level.
Sentinel-2A satellite is the first civil optical Earth observation mission of its kind to include three bands in the 'red edge', which provide key information on the vegetation state.
Sentinel-2A satellite will be able to see very early changes in plant health due to its high temporal, spatial resolution and 3 red edge bands. This is particularly useful for the end users and policy makers for agriculture applications and to detect early signs of food shortages in developing countries.
| | |
| --- | --- |
| Provider | ESA |
| Satellite/Constellation | Sentinel-2A, Sentinel-2A |
| Resolution Multispectral | 10 m (Visible and NIR), 20 m (Red edge and SWIR) 60 m |
| Swath | 290 km |
| Spectral Bands | Coastal, Blue, Green, Red, Vegetation Red Edge 1, Vegetation Red Edge 2, Vegetation Red Edge 3, NIR, Vegetation Red Edge, Water Vapour, Cirrus, SWIR1, SWIR2 |
| Revisit Frequency | 5 days |