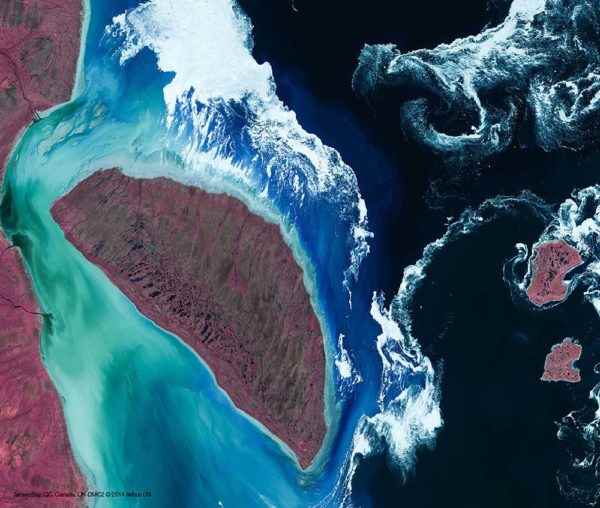 Deimos-1/UK-DMC-2 Constellation
Spectral 22m resolution and 650km swath
Rapid coverage and frequent revisit of large areas
Seamless compatibility with Landsat ETM+
Near-real-time capacity and very large images
Product Description
Deimos-1/UK-DMC-2 Constellation
The enhanced Disaster Monitoring Constellation (DMC) Earth observation satellites Deimos-1 and UK-DMC-2 are capable of imaging several thousand km along track and delivering double the data density of the first-generation DMC satellites, increasing the ground sample distance from 32 metres to 22 metres, whilst maintaining the very wide swath of 660 km.
The DMC-2 (DMC -Second Generation) satellites not only provide data continuity, but also a greatly enhanced imaging capability to cover large areas of territory at enhanced resolution. The combination of multiple spacecraft in constellation provides for daily coverage at a resolution that enables effective monitoring of the rapidly changing environment.
The following DMC second generation missions are in orbit:
Deimos-1, launch July 29, 2009
UK-DMC-2, launch July 29, 2009
| | |
| --- | --- |
| Satellite/Constellation | Demios-1 and UK DMC-2 (Disaster Monitoring Constellation (DMC)) |
| Resolution (Panchromatic) | 12 m |
| Resolution Multispectral | 22-24 m |
| Swath | 640 km |
| Spectral Bands | Near-Infrared, Red, Green |
| Revisit Frequency | 1-2 days revisit Worldwide |
Deimos-1
Deimos-1 is a Spanish Earth imaging satellite which is operated by Deimos Imaging who commercialises its imagery directly but also has distribution agreements with other entities like Astrium GEO and DMC International Imaging. It was constructed by Surrey Satellite Technology for Elecnor Deimos, representing the first Spanish Earth observation satellite and the first private one in Europe.
Deimos-1 is a small Earth observation satellite and is a part of the Disaster Monitoring Constellation (DMC), the satellite provides imagery for commercial applications, for government use and for rapid-response following disasters.
UK-DMC-2 Constellation
UK-DMC-2 is a British Earth imaging satellite which is operated by Disaster Monitoring Constellation (DMC) International Imaging. It was constructed by Surrey Satellite Technology.
As part of the Disaster Monitoring Constellation, UK-DMC-2 is used to maintain rapid revisit times needed to monitor fast changing phenomena such as fires, floods and crops. Furthermore, it also covers large areas quickly including the Amazon Basin, Australia, and Europe, providing the capability for multi-season coverage of major agriculture. To enhance the capability of imaging very large areas as quickly as possible and being able to offer custom data delivery contracts to customers, a number of operational modes are implemented.
With the full 650 km swath of the imager, strips of up to 1800 km can be imaged, for example, an image from the south of Italy to Denmark can be recorded in one satellite pass.
In addition to store-and-forward operations it is possible to perform a so-called near real time mode. This mode allows imagery acquired within a 2000 km radius of a ground station to be downlinked within the same pass. In this way imagery can be delivered directly to customers with only a few minutes delay (not taking into account ground processing).
Broadcast downlink: To allow receive-only ground stations access to UK-DMC-2 imagery, an asynchronous "broadcast" downlink is implemented. It provides a substitute service for customers currently receiving Landsat data. This downlink mode doesn't use the standard SSTL hole-filling algorithm and therefore requires a very low BER to ensure error-free reception of imagery.
Multiple ground station support: Another advancement compared to the original DMC spacecraft is the possibility of making use of multiple ground stations. UK-DMC-2 has the capability of taking images every orbit and is therefore not power limited but ground station access time and/or storage limited. The total data throughput is greatly increased when making use of more than one ground station.
Throughput performance: Based on spacecraft performance and provided there are enough ground stations available, UK-DMC-2 is able to image and downlink 11 million km2every day, which is more than the total area of the USA.
Large area mapping: In the past years, demand for large area DMC imagery has grown steadily and UK-DMC-2 will be used to carry out these campaigns. The UK-DMC-2 increased resolution and improved dynamic range will assist in providing the detail needed to accurately map areas of rapid deforestation in the Amazon region and other parts of the world.